National Cadet Corps
NCC - 3 Telangana Battalion NCC Unit of IIMC
COY. No.18(b)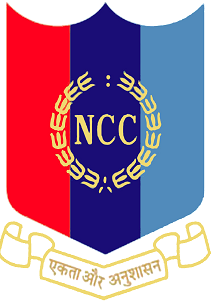 Smt. Droupadi Murmu

Shri Narendra Modi

Shri Rajnath Singh

Lieutenant General Gurbirpal Singh, AVSM, VSM

Col. T. Srinivasulu

Sri K. Raghu Veer

Sri N.B.Vasant Kumar
AIM OF NCC
The NCC aims at developing character, comradeship, discipline, a secular outlook, the spirit of adventure and ideals of selfless service amongst young citizens. Further, it aims at creating a pool of organized, trained and motivated youth with leadership qualities in all walks of life, who will serve the Nation regardless of which career they choose.
MOTTO OF NCC
The need for having motto for the Corps was discussed in the 11th Central Advisory Committee (CAC) meeting held on 11 Aug 1978. The mottos suggested were "Duty and Discipline"; "Duty, Unity and Discipline"; "Duty and Unity"; "Unity and Discipline". The final decision for selection of "Unity and Discipline" as motto for the NCC was taken in the 12th CAC meeting held on 12 Oct 1980.
PLEDGE


"WE THE CADETS OF THE NATIONAL CADET CORPS,
DO SOLOEMNLY PLEDGE THAT WE SHALL ALWAYS UPHOLD THE UNITY OF INDIA.
WE RESOLVE TO BE DISCIPLINED AND RESPONSIBLE CITIZEN OF OUR NATION.
WE SHALL UNDERTAKE POSITIVE COMMUNITY SERVICE IN THE SPIRIT OF SELFLESSNESS
AND CONCERN FOR OUR FELLOW BEINGS."


NCC SONG


Hum Sab Bharatiya Hain, Hum Sab Bharatiya Hain
Apni Manzil Ek Hai,
Ha, Ha, Ha, Ek Hai,
Ho, Ho, Ho, Ek Hai.
Hum Sab Bharatiya Hain.
Kashmir Ki Dharti Rani Hai,
Sartaj Himalaya Hai,
Saadiyon Se Humne Isko Apne Khoon Se Pala Hai
Desh Ki Raksha Ki Khatir Hum Shamshir Utha Lenge,
Hum Shamshir Utha Lenge.
Bikhre Bikhre Taare Hain Hum Lekin Jhilmil Ek Hai,
Ha, Ha, Ha, Ek Hai
Hum Sab Bharatiya Hai.
Mandir Gurudwaare Bhi Hain Yahan
Aur Masjid Bhi Hai Yahan
Girija Ka Hai Ghariyaal Kahin
Mullah ki Kahin Hai Ajaan
Ek Hee Apna Ram Hain, Ek hi Allah Taala Hai,
Ek Hee Allah Taala Hain, Raang Birange Deepak Hain Hum,
lekin Jagmag Ek Hai, Ha Ha Ha Ek Hai, Ho Ho Ho Ek Hai.
Hum Sab Bharatiya Hain, Hum Sab Bharatiya Hain.



NCC FLAG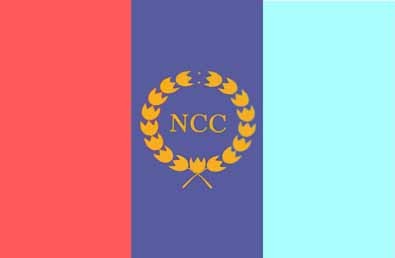 The NCC flag for various units of the NCC was first introduced in 1951. The flag was of same pattern, colour and size as was used by various regiments of the Army. The only difference was that it had the NCC badge and unit designation placed in the centre. Later on it was felt that the flag should be in keeping with the inter-service character of the Corps. In 1954 the existing tricolour flag was introduced. The three colours in the flag depict the three services of the Corps, red for the Army, deep blue for the Navy and light blue for the Air Force. The letters NCC and the NCC crest in gold in the middle of the flag encircled by a wreath of lotus, give the flag a colourful look and a distinct identity. 17 Lotus represent 17 directorates. The top 2 dots represent one is OTA Kamptee and other is OTA Gwalior.
BENEFITS OF JOINING NCC
We have already mentioned that joining NCC develops interpersonal skills of the students. NCC training helps students who want to join Indian Arm Forces but it's not the compulsion to the trainee to join any part of Indian Army after completion of the training. Benefits of NCC also includes self-discipline and problem-solving skills.
A graduate with min 50% marks and holding NCC 'C' Certificate with 'A' and 'B' grading is exempted from appearing in the UPSC for short service commission in OTA at Chennai .
Girl cadets with NCC 'C' Certificate with 'A' and 'B' grading are required to secure 50% marks in graduation in order to be eligible for the women Special Entry Scheme for the armed forces as against 60% for the other candidates.
5-10 percent bonus marks are awarded for recruitment in Army/ Navy/ Air Force to NCC 'C' certificate holders.
2-10 percent bonus marks are awarded to NCC 'C' Certificate holders for recruitment in BSF, CRPF, CISF, Coast Guard, ITBP, etc.
General order issued by state govt for giving preference to NCC cadets in matter of recruitment in state govt and educational institutions.
Some industries give preference to NCC 'C' Certificate holders for various jobs.
Bonus marks are awarded to NCC 'C' Certificate holders for recruitment in Department of Telecommunication.
NCC Cadets holding 'C' cert and taken part in Republic Day Parade New Delhi will now be exempted from CEE for Rect into Sol Clk/Skt/Sol Tech and Sol NA and will be awarded 100% marks in lieu of CEE. Such candidates have to pass PFT, PMT and undergo med exam to get enrolled. Names of NCC cadets attending RD parade will be forwarded to Rtg Dte by this HQ.
Many organizations from the public sector give advantages to the cadets with 'C' certification like Indian Airlines, Pawan Hans Ltd, The National Small Industries Corp. Ltd. And many more.
Apart of this, many companies from private sector consider the NCC certificates as an advantage. When you mention the NCC certified or achieved NCC 'C' certificate in your resume, it gives a hint about your personality.